Wash & Sterilization Instructions

-Per the Center for Disease Control (CDC) and the WHO (World Health Organization), a regular warm cycle in a washing machine should suffice in properly sterilizing your Alta Gracia cotton mask.
-Dry on lowest heat setting
-Will hold up through indefinite wash cycles
At Alta Gracia we believe in social responsibility not just as some buzzword or angle - but in its truest sense. When we walk out the door with a face covering on we're doing as much to keep those around us safe, strangers and friends alike, as we are protecting ourselves.
We also believe that we shouldn't have to sacrifice another person's health to protect our own. When buyers make the choice to protect their community by wearing face coverings, but have to purchase them from overseas manufacturers who don't support their employees, we feel like that's exactly what's happening.
That's why we decided to start producing an affordable option in face coverings that are reusable, sourced entirely from US cotton, and sewn by employees (like our sewing supervisor and part-time model Eduardo on the left) in our factory, which is the only independently certified Living Wage manufacturer in the developing world and where we provide full family health insurance coverage while taking stringent measures in our workplace to keep everyone happy and healthy.
A silver lining of the recent public health crisis has been the reminder it's provided: we're all fellow humans, the community we each belong to is a global one, and we need to come together to make it work for all of us. At Alta Gracia, we're proud to be a part of that effort.

If you're interested in ordering masks from us, reach out to us here and we'll get back to you within the day.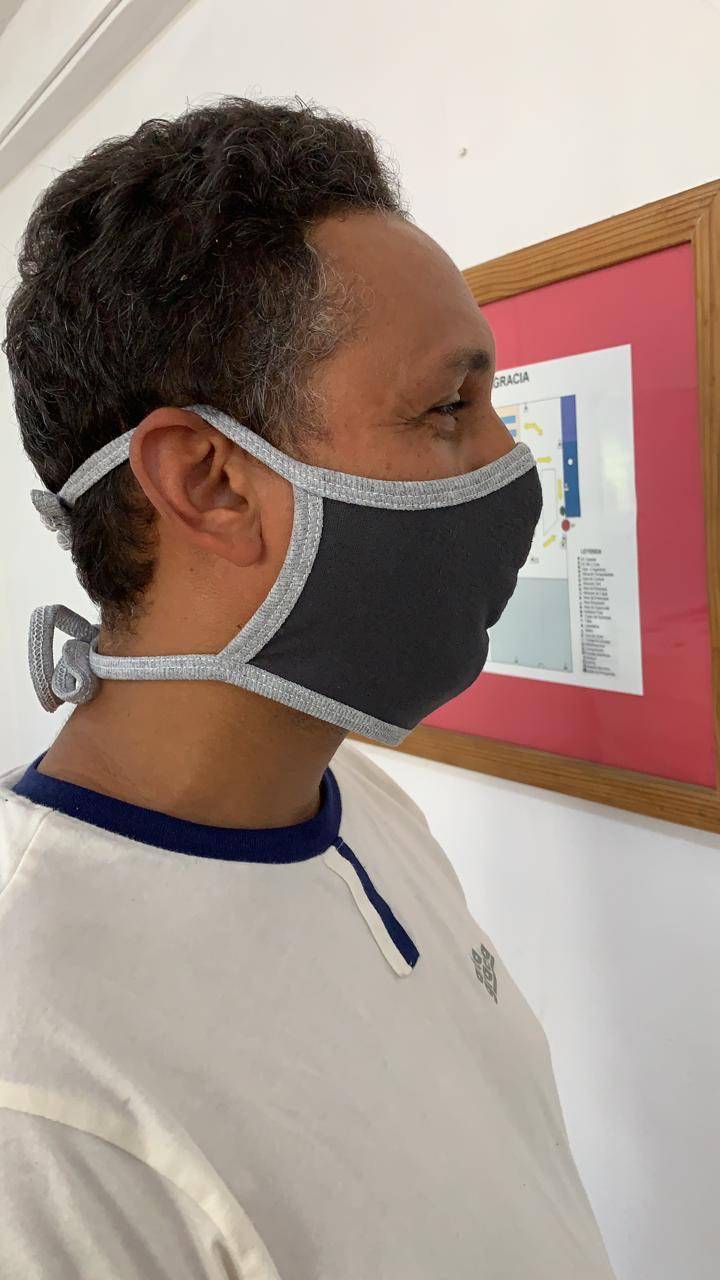 CDC on Homemade Cloth Face Coverings

The CDC recommends wearing cloth face coverings in public settings where other social distancing measures are difficult to maintain (e.g., grocery stores and pharmacies), especially in areas of significant community-based transmission.
CDC also advises the use of simple cloth face coverings to slow the spread of the virus and help people who may have the virus and do not know it from transmitting it to others. Cloth face coverings fashioned from household items or made at home from common materials at low cost can be used as an additional, voluntary public health measure.
Cloth face coverings should not be placed on young children under age 2, anyone who has trouble breathing, or is unconscious, incapacitated or otherwise unable to remove the cloth face covering without assistance.
The cloth face coverings recommended are not surgical masks or N-95 respirators. Those are critical supplies that must continue to be reserved for healthcare workers and other medical first responders, as recommended by current CDC guidance